AcaRey Acapulco
Acarey Acapulco, Yacht tour of the bay, Here we tell you prices and schedules 2022. They give daily tours with the best atmosphere, service and facilities, let yourself be surprised by boat tours with the best sunset or a moonlit night. The yacht is one of the most emblematic attractions of the port. You can not miss it!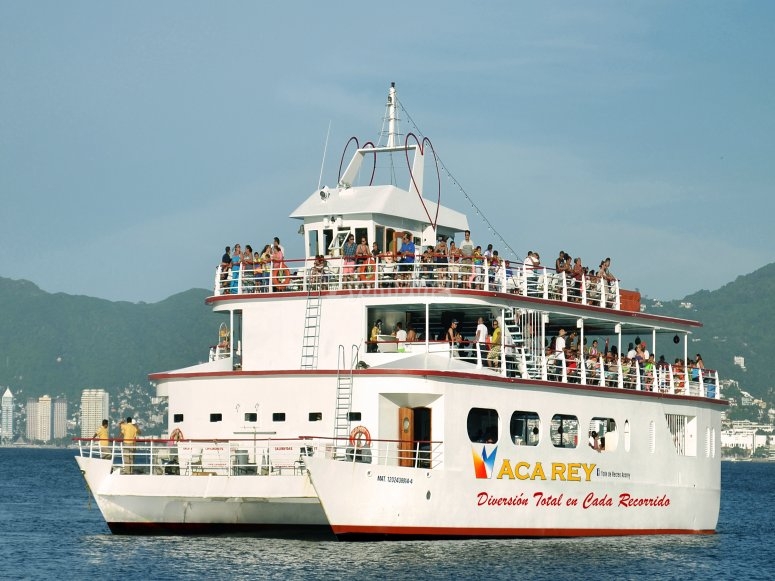 Acarey Acapulco is the newest pleasure yacht in the port of Acapulco, which gives you superior facilities and superior service. You will have the opportunity to enjoy an attractive tour of the bay and an incredible sunset accompanied by a variety of occupations that will make your tour entertaining and unforgettable.
There is no better way to enjoy the beauty of Acapulco Bay than exploring the Pacific Ocean on a yacht with a fruity cocktail in hand. On this 2.5-hour sunset or moonlit Acarey Yacht tour, you will be able to enjoy the luxury of an open bar and listen to live music as you sail under colorful or star-filled skies.
Yacht Acarey Acapulco Romantic Cruise
Perfect for couples where they see the beauty of the island of La Roqueta and the Pacific coast of Acapulco.
On the Acarey Yacht Listen to live music and have fun with a cocktail in an open bar Choose between a sunset or moonlight cruise Boat tour of Acapulco Bay with live music and entertaining contests Ideal for Enjoying with your friends and family on a boat tour of the beautiful bay of Acapulco.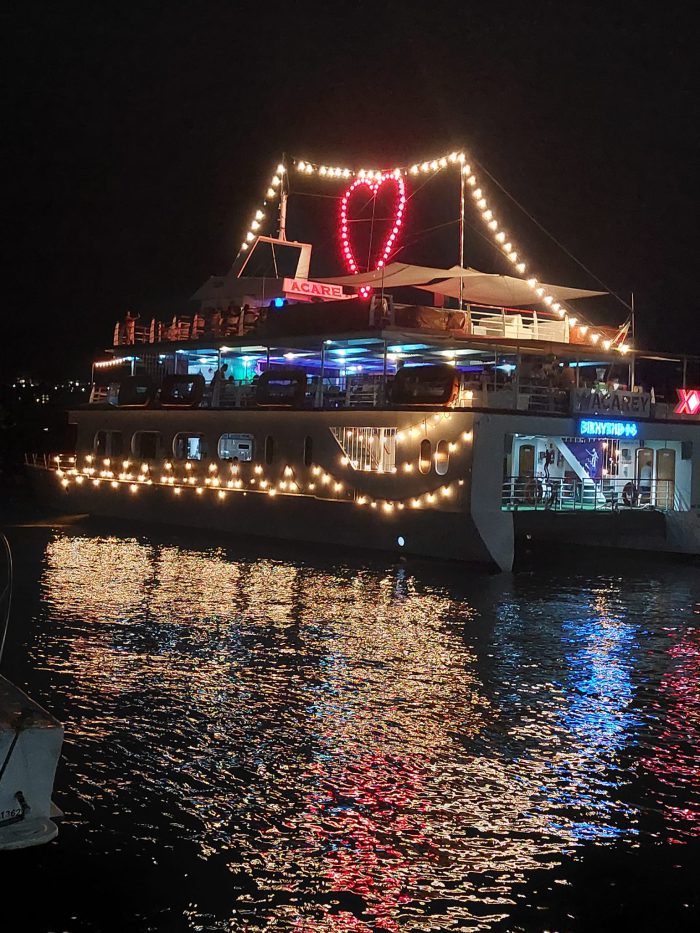 AcaRey Acapulco Schedules
We have service from Monday to Sunday
06:00 PM – 08:30 PM Sunset
09:30 PM – 12:00 AM. Lunada de Estrellas
We have service only on Saturdays
02:30 PM – 05:00 PM daisy tour
AcaRey Acapulco Cost – Price
Prices range from $360 to $480 MXM per adult
AcaRey Acapulco Services:
You will travel in a boat with capacity for 450 people and with all the essential comforts to live an unforgettable moment.
Sunset Tour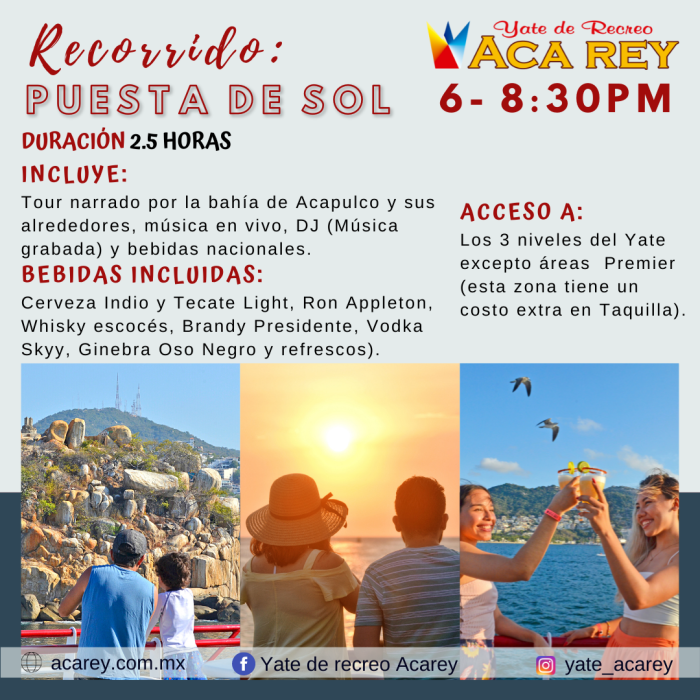 Margaret Tour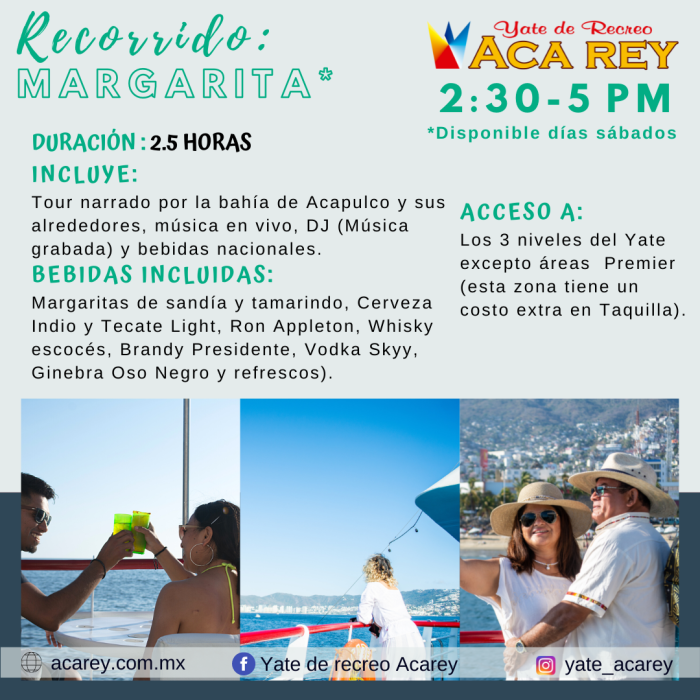 Moon of stars tour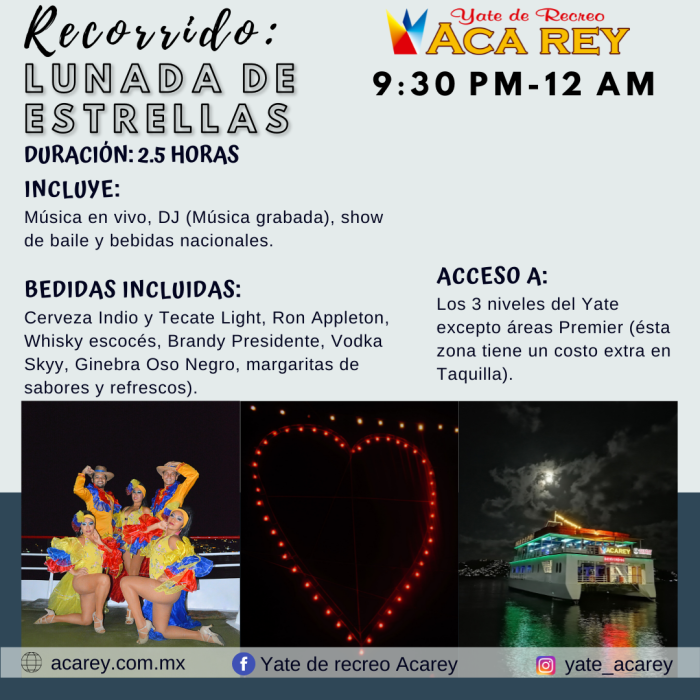 During the tour you will have the opportunity to enjoy a national open bar, live tropical music and entertaining contests.
For your peace of mind on the Acarey Yacht, you can select to ride in the afternoon or at night. If you choose to take the tour after noon, you will be surprised by the beauty and unique colors of the Mexican Pacific sunset.
Plus, a guide will introduce you to celebrity mansions and other alluring sites around the bay.
If you choose to walk in Acapulco at night, you will have the possibility to cross the sea in the light of the stars and the moon. In this situation, you will be amazed by a Latin show and then dance until you drop at the disco.
Yacht Acarey is a pleasure boat that has been operating in Acapulco for five years. The boat has a catamaran-type design for greater security, in this way as a security system so you can have fun calmly. Includes A tour of the Bay of Acapulco Live tropical music Contests and prizes National open bar.
AcaRey Acapulco Location
Address: Malecón, in front of the Zócalo. Avenida Costera Miguel Alemán, s/n Downtown Area, 39250.Acapulco de Juárez, Guerrero
Telephone
(744) 482 66 46
(744) 253 0020
Mail
Book online HERE