Virgin of the Seas Acapulco
Virgin of the Seas Acapulco Also known as the Virgin of La Roqueta, the Queen of the Seas is found in the depths of the Pacific Ocean, in the Piedra de la Yerbabuena reef, on the Island of La Roqueta.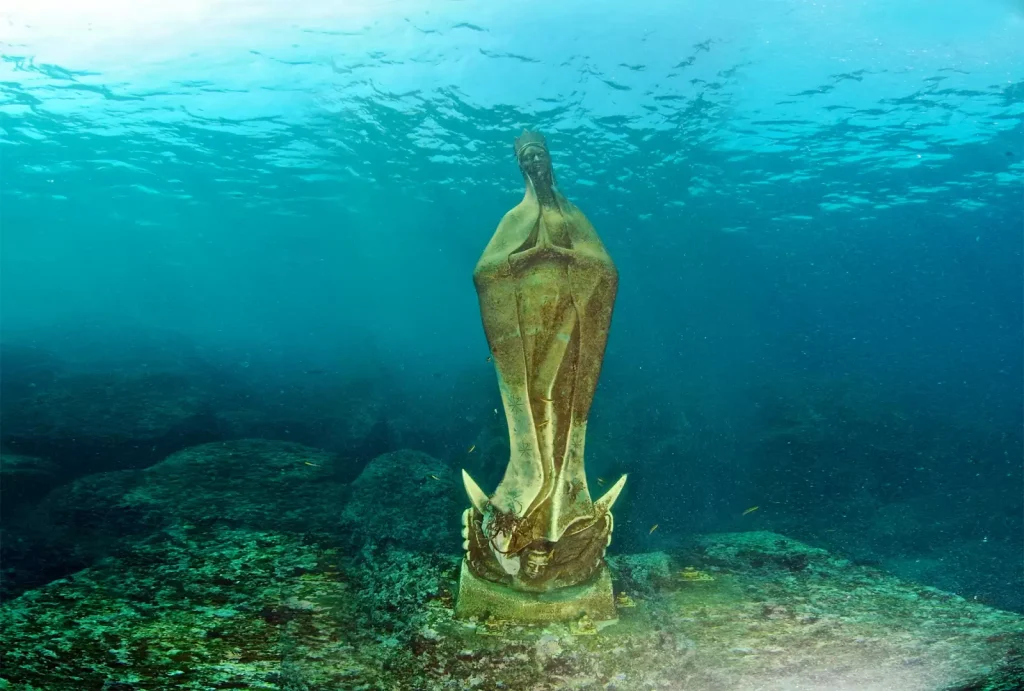 The emblematic Virgin that has outlines that recall those of a fish is the work of the Mexican sculptor Armando Quezada, it was completed in 1959 with a height of 2 meters and a weight of 450 kg.
Its history marks an important tourist spot for travelers; besides being a symbol of protection for sailors, fishermen, divers and people who live from the sea.
For its creation, Quezada Medrano was chosen, who at that time was the official sculptor of President Lázaro Cárdenas, at the initiative of the first president of the women's section of the National Action Party, Amelia Sodi de Pallares.
With the support of the Catholic Church, it was submerged in the sea on December 12, 1959, being the first representation of the Virgin of Guadalupe in oceanic waters in all of America.
Forty years later it was placed near the small island of La Roqueta, and is now protected by a green and gold shell to prevent deterioration by the tides. In its place, a replica was installed that was blessed by Pope John Paul II on his fifth visit to Mexico.
So, on your next visit to Acapulco, be sure to take a glass-bottom boat ride to see the iconic Queen of the Seas, as well as check out the remains of a ship that sunk in 1944 called the Río de la Plata.
Recommendations
Visit the Queen of the Seas in a glass bottom boat to see her.
For those who love diving, they can visit it with a professional guide for greater safety.