Fisherman's walk in Acapulco
Fisherman's walk in Acapulco; Recently, the Paseo del Pescador was inaugurated in the port of Acapulco, Guerrero, a public space recovered with the intention of strengthening the family fabric of the area, which represents another alternative in the city hall for tourists.

this new tourist corridor connects from the consecrated men roundabout to the deep beach in the Manzanillo neighborhood, where the basketball court was also rehabilitated.
Activities
This satisfying tour begins at the pier of the main beach that borders it until it reaches Manzanillo beach.
In the walk that you can do at any time of the day, you will find craft shops, food places of all national desires and from all over the world in this way as with the specialty in seafood, you will also see the boats arrive and everything the area that surrounds the place since the fishermen detail their catches, having the possibility of acquiring fresh fish.
Acapulco, Guerrero, is one of the most visited tourist places in the entire country, internationally recognized for its beaches, levels that cover the bay, the different events that are held give rise to renewal and to provide new choices to visit it.
Location
It is located on Avenida Costera Miguel Alemán in a group with Manzanillo beach. They were rehabilitated after being totally abandoned for many decades, giving a very negative appearance and making it an insecure space due to the properties of the same abandonment.
Anything else
At this moment the urban image changed, it looks different since they installed children's games, urban furniture with thermal insulating material giving the user peace of mind, the vegetation was renewed, they placed palm trees with lights, a cycle path along the path of the route, in this way they implemented cycle ports to leave your bike safely.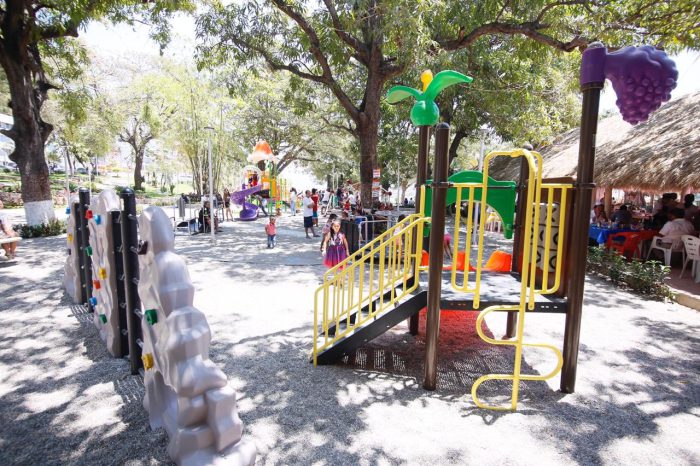 You can get there by bicycle, on the Acabus or by public transport, since it is a sector that is accessible to all kinds of people, it also has ramps for people with disabilities, which makes it more possible for visitors.
In addition to reactivating the economy of the area through shopping malls, direct and indirect jobs, boat trips, there are sports, artistic, cultural events such as the Cultural Evenings software where part of the different expressions of the state of Guerrero are supported.
By last
This place is unmissable when you come on your next vacation since, in a group with Manzanillo beach, they propose an exclusive alternative in Acapulco, where you cannot miss seeing a sunrise or sunset from the route, a space with tradition that, as described by the residents of the place, returned to be as it was before.